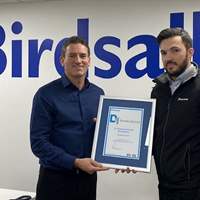 Daikin have awarded Birdsall their D1 Business Partner status in recognition of an excellent year working together.
Daikin commended the quality of Birdsall's installation standards and commitment to training.
The status provides Birdsall with extended warranty terms, additional product training and enhanced technical support.
Congratulations to Chris Ward and John Halls for enabling Birdsall to achieve this recognition.
Image: Daikin present Paul Birdsall MD with their D1 certificate.